September 2022 – Ruth Gray
Ruth visited us in September 2022 and gave us a demonstration in the use of Acrylics and an urban town scene starting from a charcoal sketch working through various layers to develop the urban scene.
Unfortunately we were not able to take our usual imagery to support Ruth's visit, due to an unforeseen issue during the evening, but have included a few snips of the art work and some imagery taken from Ruth's catalogue.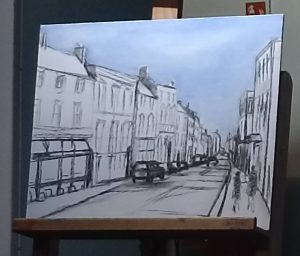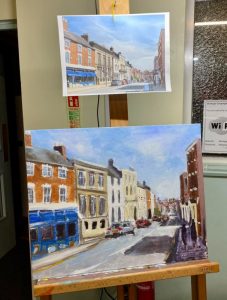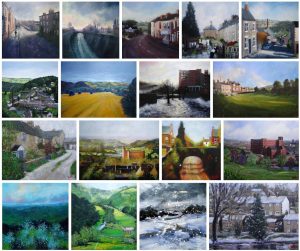 About Ruth Gray.
Hello, let me tell you something about who I am. I was brought up on the Nottingham/Derbyshire border near Long Eaton, where I remained until I was thirty. Without a doubt, my passion for all things art can be attributed to both my father's and mother's side of the family, a lineage that has nurtured photographers, craft lovers, and artists. From as early as five years of age, I remember very clearly being drawn to art and was extremely fortunate that my parents were encouraging. My late Auntie Marjorie was a major influence in my life, the most vivid childhood memory that I can recall is one of me sitting in the New Forest with a box of Winsor and Newton watercolours while she tutored me.
I wouldn't say I am self-taught; art education has come from firstly my aunt (as mentioned above) GCSE/A/level and secondly two years at art college during my six years in Australia. I have been greatly influenced by the fabulous master watercolour tutor Charles Sluga, who taught me for five years, working from his small township of Yackandandah and has international acclaim. I have not felt the need to over formalise my art training. Preferring to forge my own style.
At University I chose to study more vocational subjects, I confess I am a serial student. I absolutely love learning and to me, there is nothing better than being in a library reading a book and researching a subject. Over the years I have gained a HND in Textiles Technology and BA 1st Class honors in International Fashion Business and more recently a Master of Art with a distinction in Public History and Heritage.
I have displayed art in exhibitions solo and joint every year since 2003 enjoying the friendships and collaborations made along the way. I am a member of Peak District Artisans and Banks Mill Studios enjoying the opportunities each afford. Art demonstrating at art societies and groups is something I really adore along with leading workshops and working with community groups or schools. I believe greatly in encouraging everyone to become involved in art at whatever level it is good for the soul!
I currently live a life I have worked hard to achieve spending three days researching and writing heritage reports for Planning and Design Practice in Derby and the other days spending time on my art I find one inspires the other and I have developed a deep understanding of buildings and their significance within the local landscape.
For the future, I would like to increase my commissions for the past few years house portraits have been a pleasure to do for some lovely clients. It's great to deliver artwork that means a great deal to someone. I have also produced wedding venue pieces as well as garden portraits. The spaces we share with others are so important and having those memories captured is a great gift.