July 2023 Colin Joyce
Colin had travelled the UK on his way to the Patchings Art Festival and was able to demonstrate to the society on-route in July 2023, demonstrating the painting of a "sea scape" scene using oils as the medium.
The scene was based on a view of the Forth Bridge from long distance, although not in the painting, but having a shore line with a small open boat, .  Among the techniques Colin demonstrated he showed us how to use a laminated image to get the colour mixes just so to give an authentic look.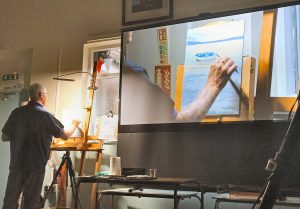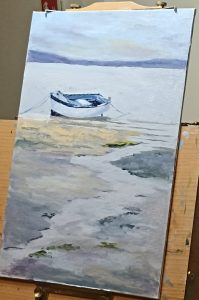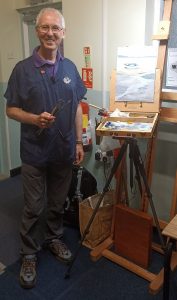 About Colin:   www.colinjoyceart.com
I am most inspired by the places I visit. I love to travel and record those memories in sketches and photographs. The subjects I choose to paint are a result of those travels, whether close by or distant. They are a part of my story, my life. I begin an artwork either from my sketches or photographs, never from someone else's. I had to be there, be involved, and recall the sounds and smells of the place. I often create a painting on location, known as Plein Air, which gives the artwork a spontaneous vitality sometimes difficult to recreate later in the studio. I enjoy working on both canvas and paper. The way oil paint or watercolour is applied to the surface and how it reacts is so different, so exciting, each having its own qualities shine through in the end result.
Born in Sunderland in 1957, Colin has lived in Dunfermline, Fife since 2004. Having always had an interest in art since early school years, Colin studied art to Advanced level and, later, part time college. Never attended art school, instead pursuing a career in Financial Services for 38 years, painting in his spare time. Took early retirement in 2013 to concentrate on painting full time. Colin has been fortunate to have studied with renowned oil painter Ken Howard RA OBE, also internationally known watercolourists Joseph Zbukvic and Alvaro Castagnet.
He writes articles for art magazines, tutors workshops abroad for Arte Umbria and Slikamilina and is an art instrutor on cruise ships. Colin produces regular newsletters and blog posts from his website www.colinjoyceart.com