January 2023 – Kate Wrigglesworth
Kate Wrigglesworth visited the society in January and demonstrated her unique and colourful fantasy art work, creating a beach scene with a boat, dancers and shells!
The Society also enjoyed a video short from Kates collection entitled "Angle Garden" showcasing dance and art together which can be viewed on Kates YouTube Channel by following the link here -> Angel Garden
An enjoyable evening was had by all.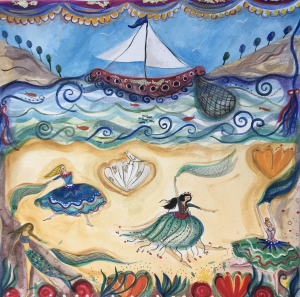 About Kate: https://www.katewrigglesworth.co.uk/
I am a freelance practising Artist, Designer & Dancer based in Bewdley, Worcestershire. As well as working on commissions for paintings, I also work as an artist in residence, in schools and communities.
I work in a variety of mediums from paint, textiles, collage, to three-dimensional sculptures, and I regularly run workshops and demonstrations for Arts groups and societies.
I use colour and composition to express emotion and create atmosphere. The flow of line in my paintings is influenced by my love of dance which adds poetry and inspiration to my work. My degree was in Theatre Design set and costume and this continues to be an influence.
Over the years I have developed an expressive form of painting, a poetic language with invented symbols and shapes developed from the environment in which I live. The source of my work is based upon dreams, invented stories and created myths. My work explores characters placed in different landscapes. These characters are fictional, figurative and abstract.
I exhibit my artwork nationally and locally and my paintings, prints, cards and designs are available to purchase directly or at any artist craft fairs or exhibitions which I attend. To see what's coming up take a look at my events page or get in touch via my contact page.