August 2023 – Heather Griffin
Heather Griffin visited the society in August 2023, this being her second visit to the society having  helped us out at short notice in 2022.  In 2022 Heather painted in oils and created a Pig painting, this year moving on to Sheep!
To re-cap on the "Pig" follow the 2022 link Heather in 2022 Otherwise see here the 2023 Sheep and Lamb and some progress images as Heather created them during the evening.  Heather will finish the painting as the oils dry and hopefully share the final image of the finished painting with us later.
Demonstrations generally happen on the first Monday of the month and are included in the membership fee but anyone can come along on the night for a £5 entry fee so why not check out the Calendar and come along!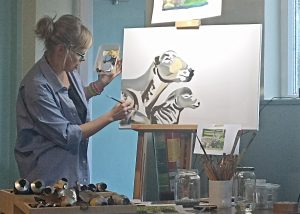 About Heather 
I grew up in farm life. It taught me valuable lessons and allowed me to relate to nature's colours and characters. I often combine this with gentle humour through hints of anthropomorphism. With animals as my main subject, personalities are never short.
My inspirations are best summarised as love and connection, be they from an animal bond, nostalgia or simply the joy of a moment shared. Through these empathic threads, I've enjoyed many a varied commission. Pets, wedding bouquets, abstracts and classic cars; there is always a story behind the artwork that lights me up.
I paint in oils, because of their fluidity and rich colour. Strong contrast and a play on composition have become hallmarks of my work, often sparking conversations about a subject's character or the negative space around it. Hearing different interpretations of my work is an endless source of intrigue and satisfaction for me. There's relatability, emotions roused and views on space.
After an unplanned 10-year break from painting, I returned in earnest 8 years ago. It is now my profession and a source of great pride. I am eternally grateful to all who have supported me along the way.
I have held successful exhibitions at the Sock Gallery, Melbourne Art Festivals, Market Bosworth Art Festivals, Rutland Show and Staunton Harold Artisan Show, alongside many thriving country shows.
I teach characterful oil painting for beginners, which is deeply rewarding. Art is for sharing! In 2021 I also instigated Star For Art; an annual creative confidence project for children that is growing from strength to strength.
I am based in Appleby Magna, on the borders of Leicestershire.
Thank you for viewing my work.