August 2022 – Steven Coates
Steven is a regular visitor to the society and stepped in at short notice to save the August demonstration and and talked to us about watercolour skies and the 2 minute rule!
Steven produced a lovely dark sky picture with sunbursts and donated the picture to the Society which will be in the December 2022 social evening raffle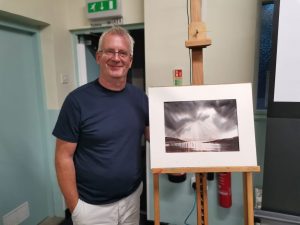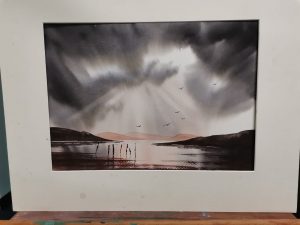 About Steven Coates
Sheffield born Stephen Coates was advised to forget about art at school. His teacher acknowledged his ability but suggested there was no future in the subject. Having spent 16 years in the music industry and another 16 years running his own sandwich business, Stephen finally disregarded his teachers advice and in April 2011 and turned professional as an artist and tutor.
Stephen explains, "When I reached that ripe old age of 50, I was a little disillusioned with life. I found myself thinking about what I was doing and what I was really good at. I hadn't drawn a picture or lifted a paint brush since I was a teenager. For some reason I decided to go out and get some drawing paper and pencils and soon realised that I still had it in me. At the same time I watched a series on television about watercolours and it was so inspiring that I rushed out and bought all that gear too. I could have done with some art classes myself but I got cracking, practised hard, framed some of my efforts and hung them in my sandwich shop. I was stunned, people actually liked them and parted with their cash. One of my customers said to me, "I've been painting for years and I can't paint a sky like that." I explained how it was done and she then asked me if I had considered teaching. That was a defining moment!"
"I was so excited about what I had discovered and how I had progressed that I felt I could help other people achieve the same. I designed a six week watercolour course and set up a purpose built teaching studio and invited people to attend. I was stunned by the positive response. My art classes in Sheffield proved to be very popular and I have really enjoyed sharing my own enthusiasm with other people. I have since become an established watercolour demonstrator and workshop leader visiting art groups all over the country. I do some demonstration work for Winsor & Newton and frequently paint live at art shows. I have a publishing deal with Search Press and and currently have two books to my name with a third due to be published  in 2022. I also provide regular articles for Leisure Painter magazine. The other exciting aspect of my career was getting invloved with the trade and becoming a supplier of art materials. I developed a very special relationship with the Proarte brush company in Skipton and ended up designing my own brushes which they kindly manufacture for me. Most notable is the "Foliater" which is a brush specially designed for painting trees and foliage. All these products are available on this website."
A lot has happened since selling his sandwich business and concentrating on art instead so it was obviously the right thing to do. Stephen has never looked back and loves his work. Sadly he doesn't get a lot of time to paint for himself but there are some of his original paintings available to view in the "Shop" section of the website.